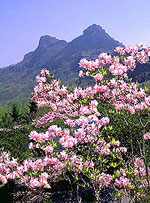 Avery County, NC is home to famous mountain peaks like Grandfather Mountain NC, Beech Mountain and Sugar Mountain. It has the highest county seat in eastern America (Newland, elevation 3,621 feet), the highest incorporated town in eastern America (Beech Mountain, elevation 5,506 feet), and is known as the "Christmas tree capital of the world."
Once people arrive at the High Country in the Blue Ridge Mountains of North Carolina, they find it difficult to leave. With its four distinct seasons, spectacular natural beauty and friendly natives, Avery County NC is one of the most desirable places to live in the North Carolina mountains. Avery County is not a place with one obvious appeal, but rather a collection of communities - each with its own history, traditions and quirks. These communities, and the characters who live in them, are what gives Avery County NC the unique and off-center personality that the locals all cherish.

Weather
The official US Weather Service Reporting Station located at the Swinging Bridge Visitor Center on Grandfather Mountain NC (elevation 5,300 feet) has been providing daily weather observations since August of 1955.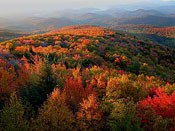 With rare exceptions, the temperature will be 10 to 20 degrees cooler at the summit of Grandfather Mountain NC than in the Piedmont and 5 to 10 degrees cooler than in lower elevations in the High Country. The average rate is 2.2 degrees per 1,000 feet, meaning that for each thousand feet you descend, the air will be 2.2 degrees warmer.

For more information on Avery County, visit the Avery County Chamber of Commerce website.
If you have any questions or would like more information, please contact us (828)898-2000, email us, or use our online request form.